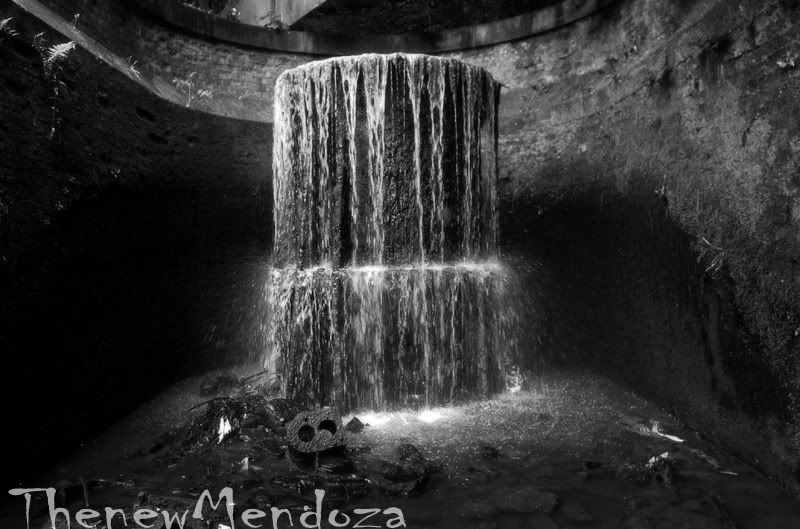 Either I have been lazy or busy, I can't actually decide which, probably lazily busy.... Last Saturday I met up with The Vicar to have a look at a few of Manchester's amazing drains, with Gorton Falls being the starter course.

The gentle dripping, rain dampened trees hung low as we made our way down the shaky rusted ladder, skinny doesn't begin to describe it. Safely down though we headed up stream to the first of the waterfalls, the near deafening noise can be heard from the access point.



We took one look at the ladder leading up, covered in 'lady products' the five metre climb could have been fifty, neither of us in much of a mood to tackle the filthy beast this time on a Saturday.

So heading back to the access point we discussed where to head next and settled on SSSI (nope, I still don't know what it stands for). I can't pretend I knew anything about this one, I'd heard of it but nothing more.



It's a massive sewer overflow.

But fook me what a sight, as ten million gallons of shit fly by before you eyes, the noise was incredible, the structure looked like something out of Tolkien and the SMELL...actually wasn't that bad. The Vicar told me some statistic about this one (three quarters of Manchester's sewage runs through here...?), sadly, I can't actually recall exactly what it was, nevermind. It's a sight to behold, really, it is.



We cracked on, heading for Processor, Bungle andI had done this one the other week but I wanted to see it again, if only for the exercise, at 2300m this one is a GREAT walk in the park. I spent longer than I care to imagine, once again, looking at a steady stream of shite rushing by, what a way to spend 8 hours on a Saturday. Brilliant.



In the meantime I've been boating underground as well as slogging through thigh deep mud, all in the name of noseyness, I can't wait to tell you about that one...

TnM ;->